It's official – Twitter is no longer optional! Companies large and small are using Twitter to connect with customers, strengthen relationships, humanize their brand and manage large-scale marketing campaigns. When used correctly, Twitter can be an excellent addition to your marketing toolbox.
In this article, we cover the do's and don'ts of corporate tweeting for those starting off with this tool.
First off:
What is Twitter?

Twitter is a free online micro-blogging platform that allows you to post public messages 140 characters at a time. The brevity of messages as well as the immediacy of information sharing makes it a very unique communication tool. Twitter reached new heights of popularity in April 2009, when it was hyped up by the likes of Ashton Kutcher and Oprah Winfrey, and later featured on the cover of Time. Over a short period, it reached an unprecedented growth rate, gaining the reputation as the fastest growing online community.
So let's begin...
1. Don't let your Twitter page become a running informercial on your business

Resist the temptation to treat Twitter like any other advertising medium – it doesn't work that way. Twitter is designed for relationship building. The most successful corporate accounts provide insights and value to the general listener. This involves tweeting about the industry at large, sharing links to useful articles, providing commentary on topical events and starting conversations with your followers.
Now and then, inject a marketing-based tweet about yourself – a link to a web update, information on upcoming promotions and additions to your service portfolio.
A well accepted ratio is one tweet about yourself for every 6 tweets about the industry:

2. Customize your Twitter page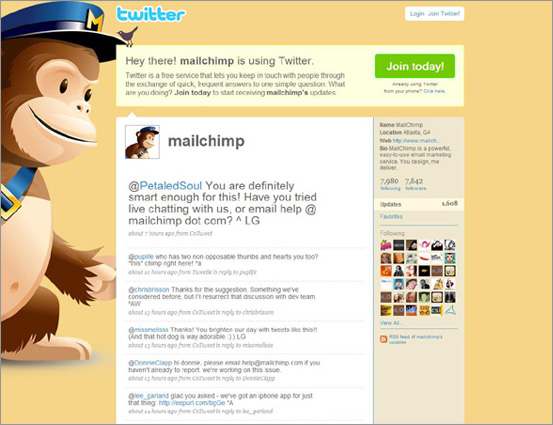 Show you're serious about Twitter by customizing your brand presence. This involves:
customizing your avatar (thumbnail)
developing a custom Twitter background
writing a short but effective bio
adding your web link
including contact details for more info
The jury's still out whether corporate accounts should have logo or photo avatars.
Logos are preferred for accounts that are updated by multiple employees: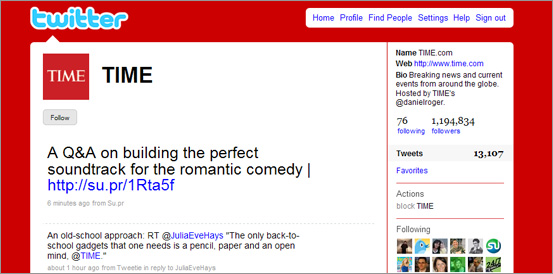 … while photos are seen as more personal: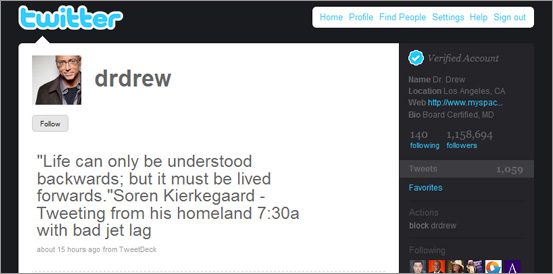 However, if your logo is short enough, you can go for a hybrid approach: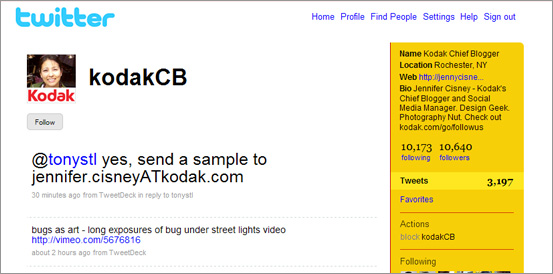 3. Get to know the system  

Get to know the ins and outs of Twitter. It might take a while to catch up on the Twitter lingo, so we recommend starting with this Twitter dictionary.
4. Provide commentary, not just links
Whenever you share information, provide your own views on the matter. This humanizes the reading experience and gives others a glimpse into your company culture:
The dry version

The lively version

5. Make it personal, not just business 
Now and then, inject a non-business related tweet in your feed. Tony Hsieh, CEO of Zappos.com, shows how Twitter can be used to create positive brand equity. He has a fun and engaging Twitter feed, often sharing personal information with a humorous spin:

To date, he has more than one million followers on Twitter.
He shares on The Inquisitr:
Twitter is really just a great way for employees and customers to see that we are real people, and it makes the relationship a lot more personal, which is what we ultimately want people to feel about the Zappos brand.
6. Share the love



Twitter is all about reciprocating. Brands that don't reciprocate can be seen as snobby and elitist.
Compare Hillary Clinton's feed, who followed 0 people during her campaign, to Obama's account which follows back a large percentage of its readership:

Even though Obama's followback is probably automated, this gesture made the fan feel very special.
7. Promote your feed
Promote your Twitter page via existing marketing channels - embed a feed on your website or blog, link to it in your email signature, include it in your skype profile and even print it on your business cards. 
8. Ration your tweets  
Too much tweeting is seen as "spammy", especially if it is repetitive. Prior research shows that users appreciate 6 tweets or less a day – thereafter your readership becomes annoyed. To maximize your tweet exposure, communicate during peak business hours when your clients are online.
9. The bottom line
Once you follow the "rules" of Twitter, the marketing possibilities are endless! You can use twitter to:
post links to updates on your website and blog
give away exclusive product coupons
share information about upcoming promos and company events
share photos of product launches and newly arrived stock
post interesting "outside of work" stories
promote your project with a sneak peek or free download
use Twitter search to find out what others are saying about your brand
hold competitions and polls
use Twitter for instant customer support
There are many inspiring case studies on how brands are engaging with the medium. Dell, for example, attributes more than $6.5 million of their revenue to Twitter campaigns.