African Futures & Innovation Programme
Building a knowledge platform on the future of Africa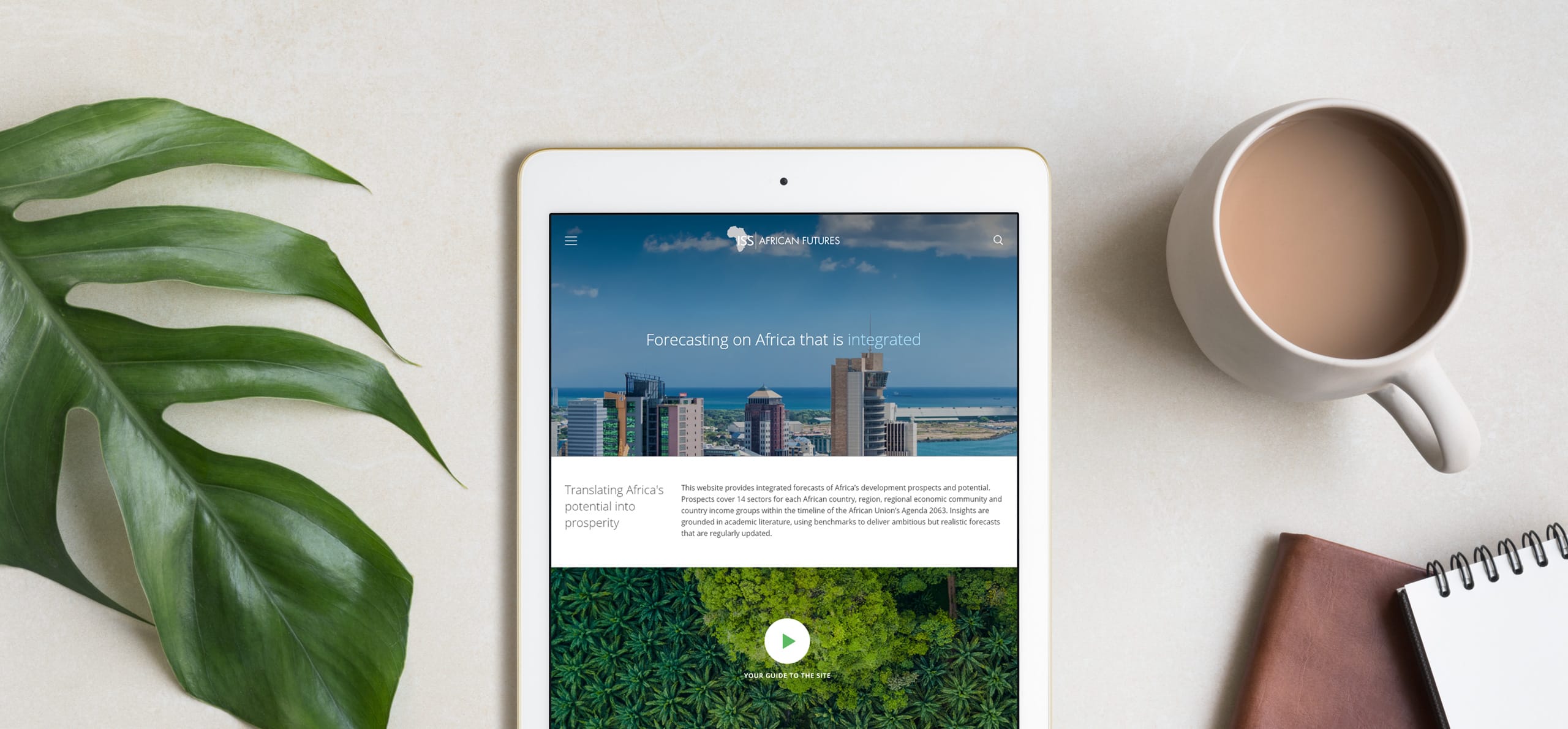 The challenge
The African Futures & Innovation programme (AFI) at the Institute for Security Studies (ISS) undertakes long-term thematic, country and regional studies on the future of Africa. The organization required a user-friendly interface to provide access to its numerous studies and reports, including over 4,500 charts and more than a million words of text.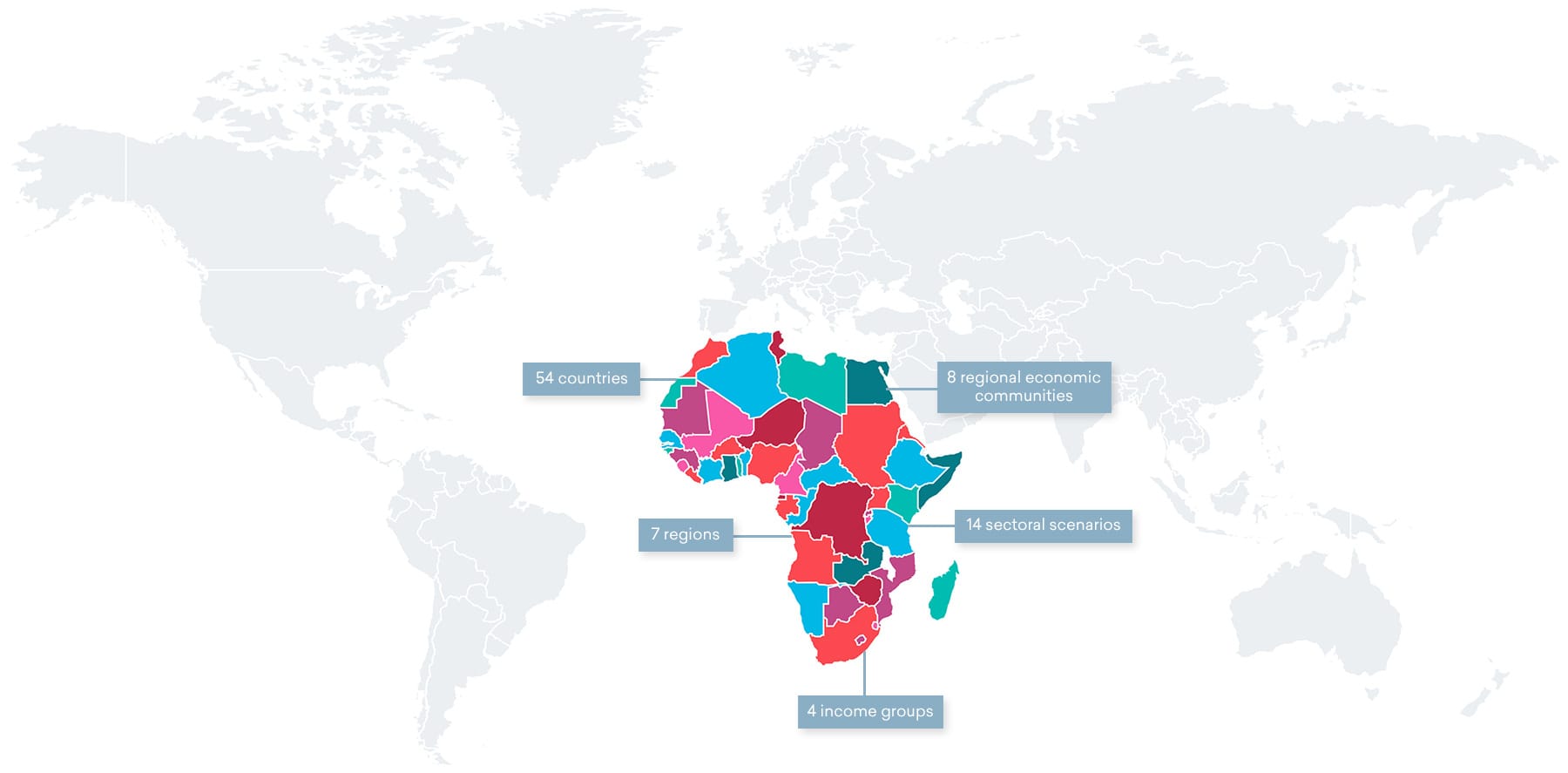 Solution
We built a dedicated knowledge platform for the African Futures & Innovation programme, providing integrated forecasting on all African countries, income groups and economic regions (from the present until 2043).
The overarching aim is to model progress towards the African Union's "Agenda 2063" vision through the impact of various sectoral scenarios (such as agricultural development, health/WaSH, education, free trade and so on).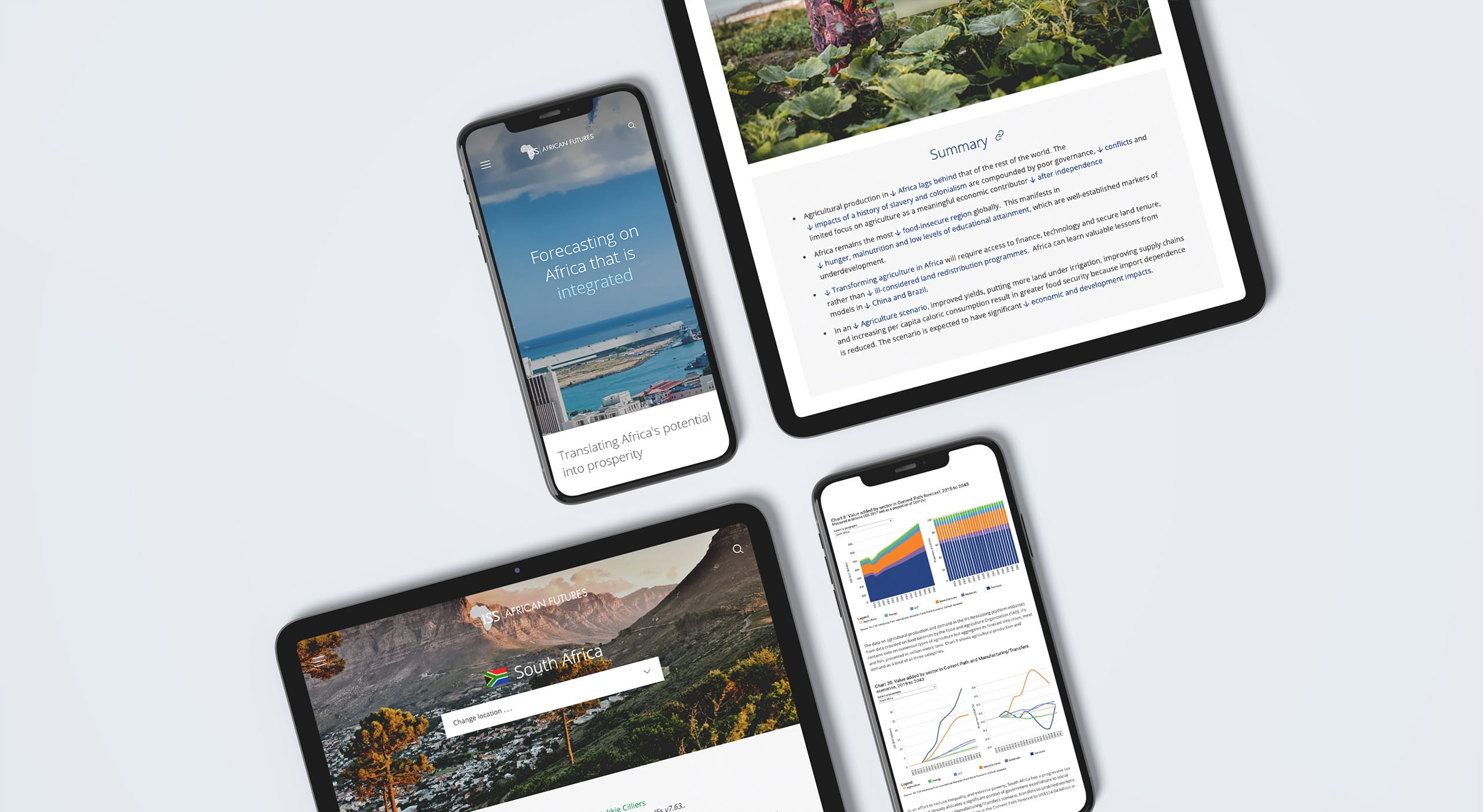 Navigation
Users can navigate the site geographically (by browsing specific African countries, economic regions or income groups) or thematically (by choosing a scenario of interest).

Detailed
reporting
Each report takes the user through the geography or theme's current path, and potential future progress based on specific interventions.
The site also hosts a comprehensive blog, newsletter and events platform.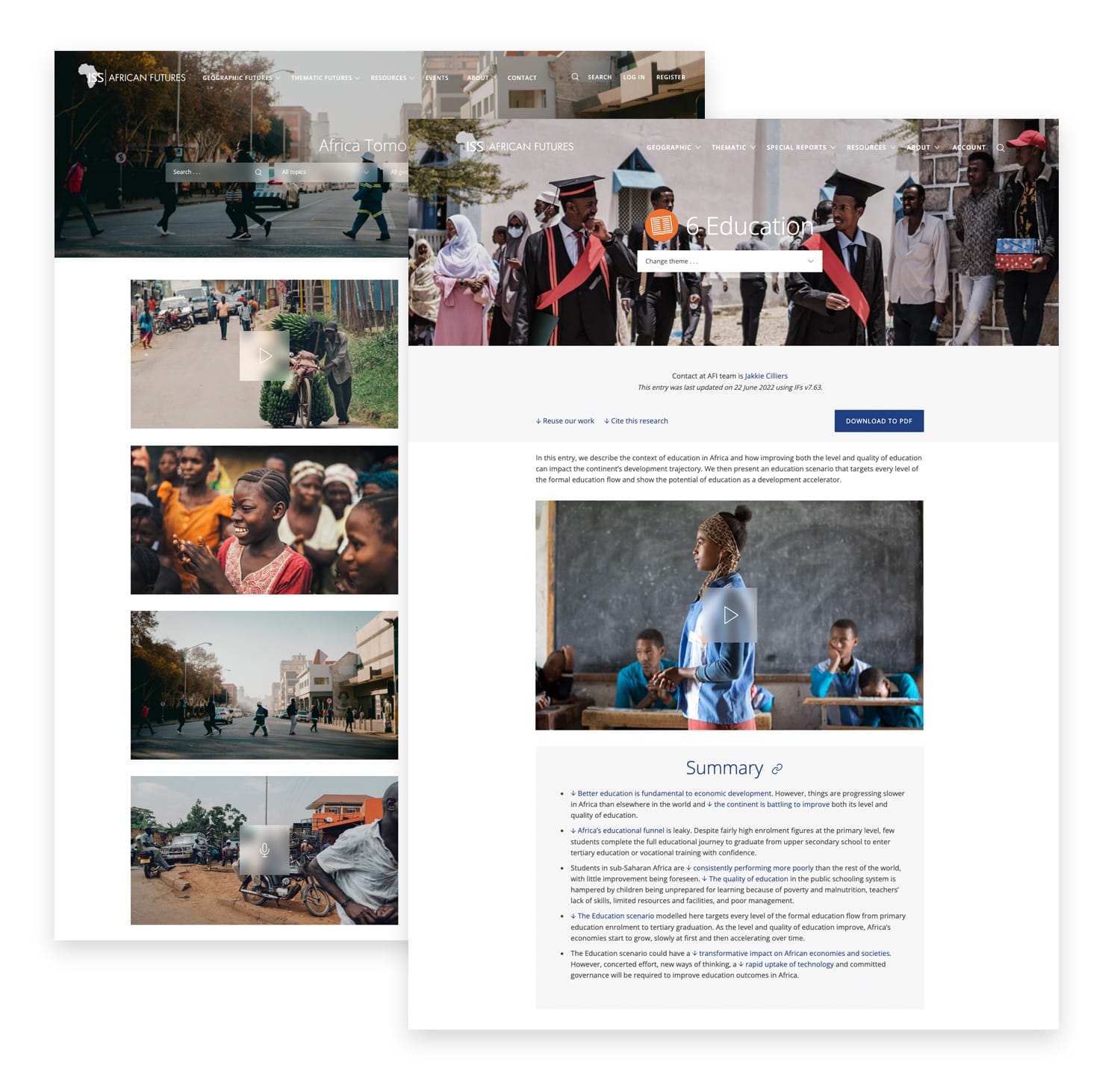 PDF converter
Since a large portion of the site's target audience likes to consume content in printed format, we enabled dynamic PDF content conversion. This member-restricted feature converts the latest web copy per section into a beautifully branded PDF, with clickable table of contents and section-specific footnoting.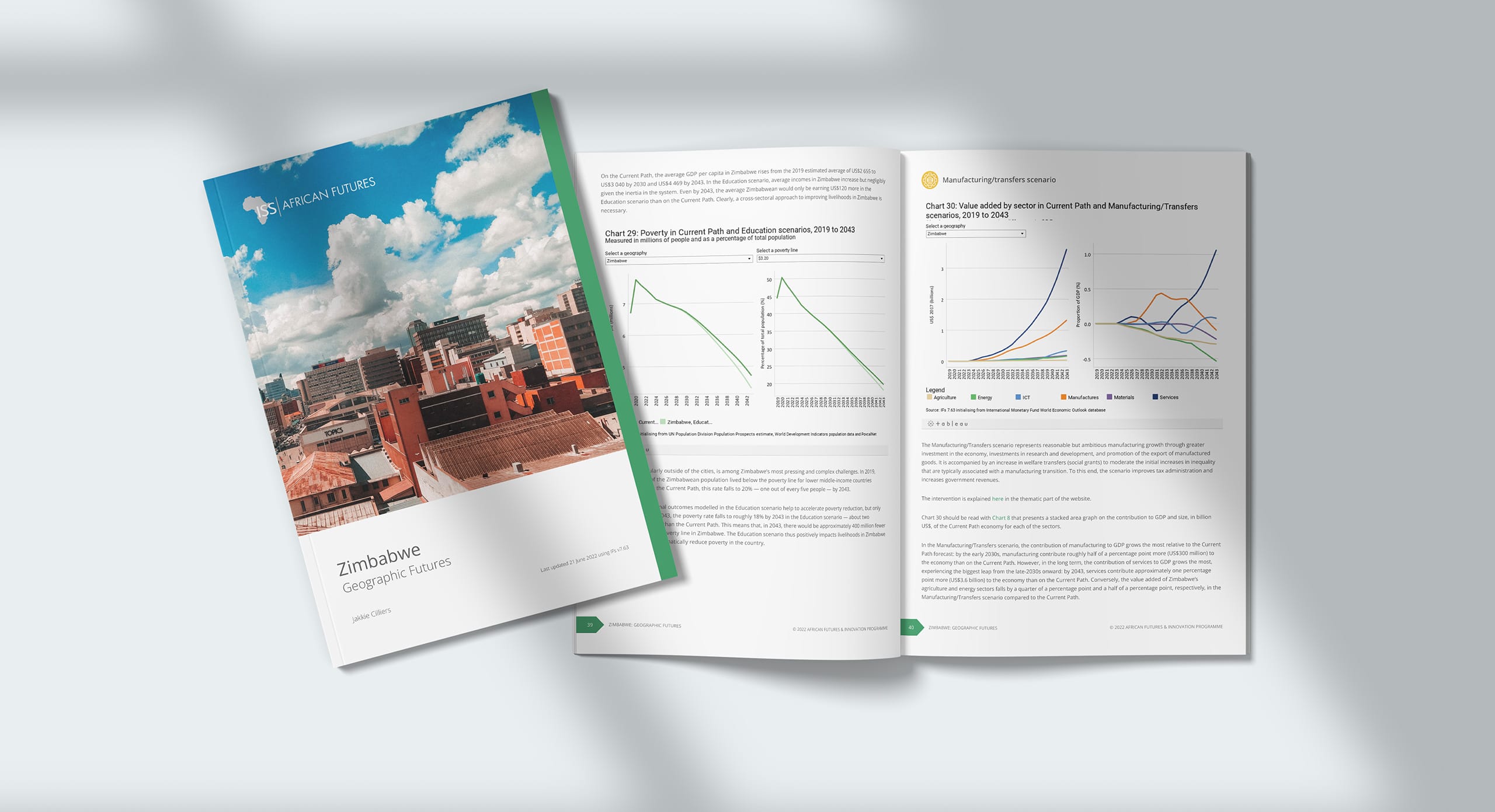 The result
The site was launched in June 2022 at a webinar hosted by the Daily Maverick, with a special address by South African president, Cyril Ramaphosa, as well as the CEO of NEPAD, Nardos Bekele-Thomas. It continues to serve as comprehensive resource to help governments, businesses and civil societies plan for the future.
We have been working with Helios Design since early 2021 and have been impressed by their professionalism and attention to detail. They are thorough, friendly and provide rapid solutions with a creative flair. An impressive team.

Jakkie Cilliers, Head of African Futures & Innovation at ISS
This new resource will help answer a number of pressing development questions, such as whether the growth of Africa's populations and economies will be sufficient to improve overall wellbeing.

Cyril Ramaphosa, President of South Africa