Cliffe Dekker Hofmeyr
Creating a fresh digital presence for a leading commercial law firm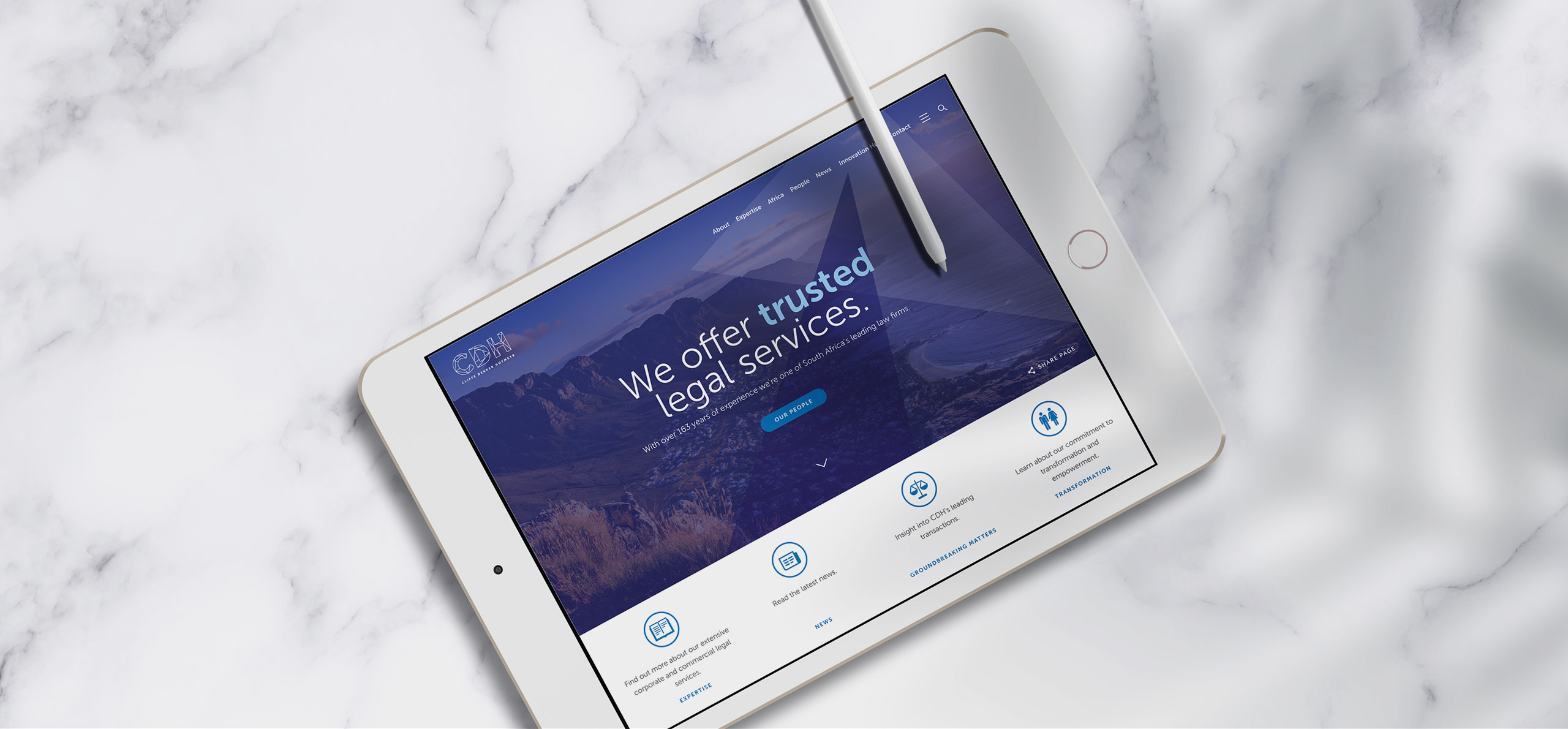 The challenge
Cliffe Dekker Hofmeyr is one of the Big Five corporate and commercial law firms in South Africa. The firm approached us to refresh their online presence and reflect an updated brand identity.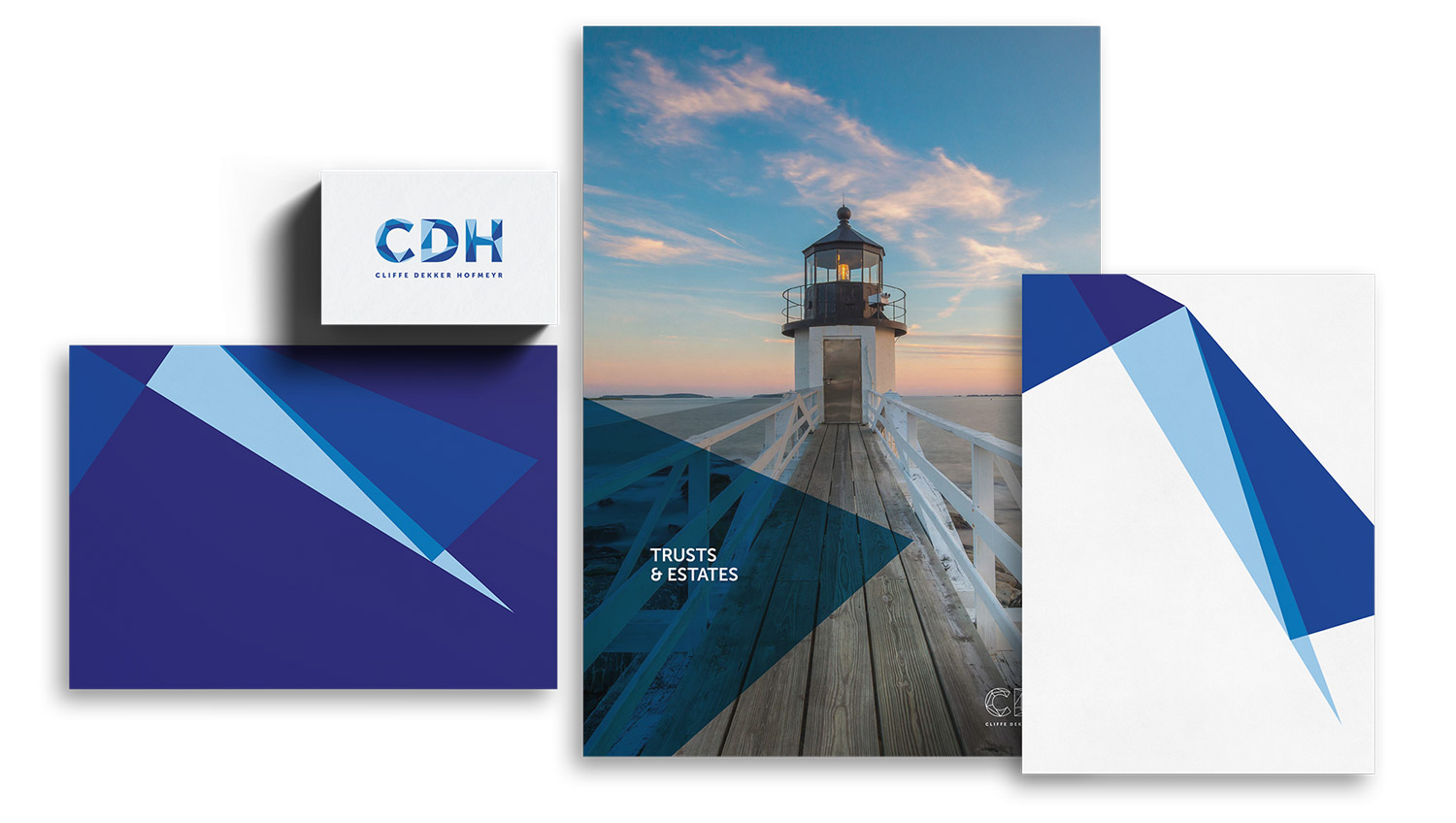 The solution
We built a brand-new Retina-ready web presence for the client, showcasing the depth of expertise and geographical reach of the firm.
The new site offers a seamless experience across desktop, tablet and mobile devices.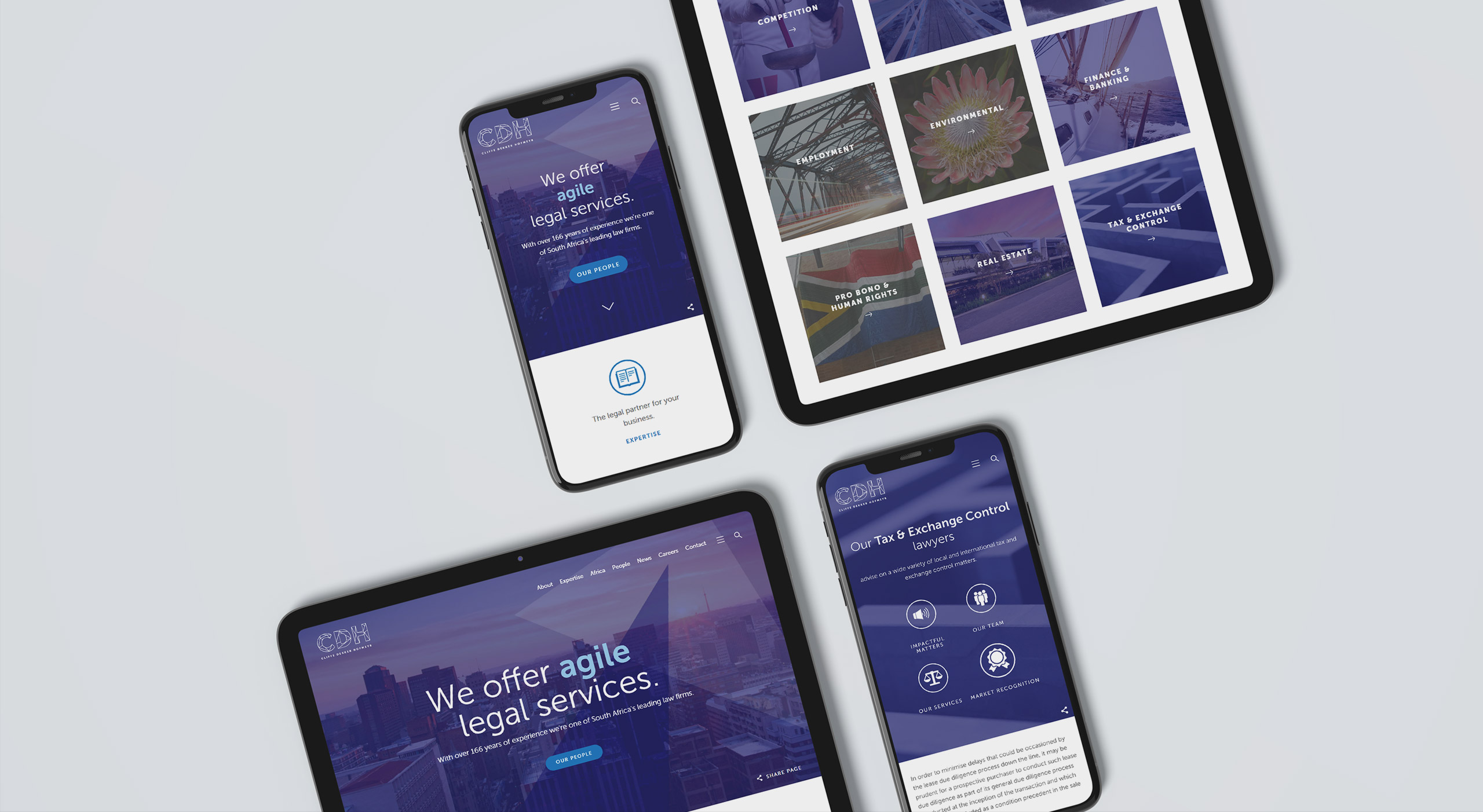 Research and
design
The project kicked off with a round of remote video-based user testing to identify the major pain points on the old site, supplemented with insights from competitor research.
We roped in designers from Fixate to approach the UI design with fresh new eyes, given our involvement with previous iterations of the site.
Conceptual imagery (such as sailing for finance and fencing for competition) is applied to convey the unique positioning of each practice group.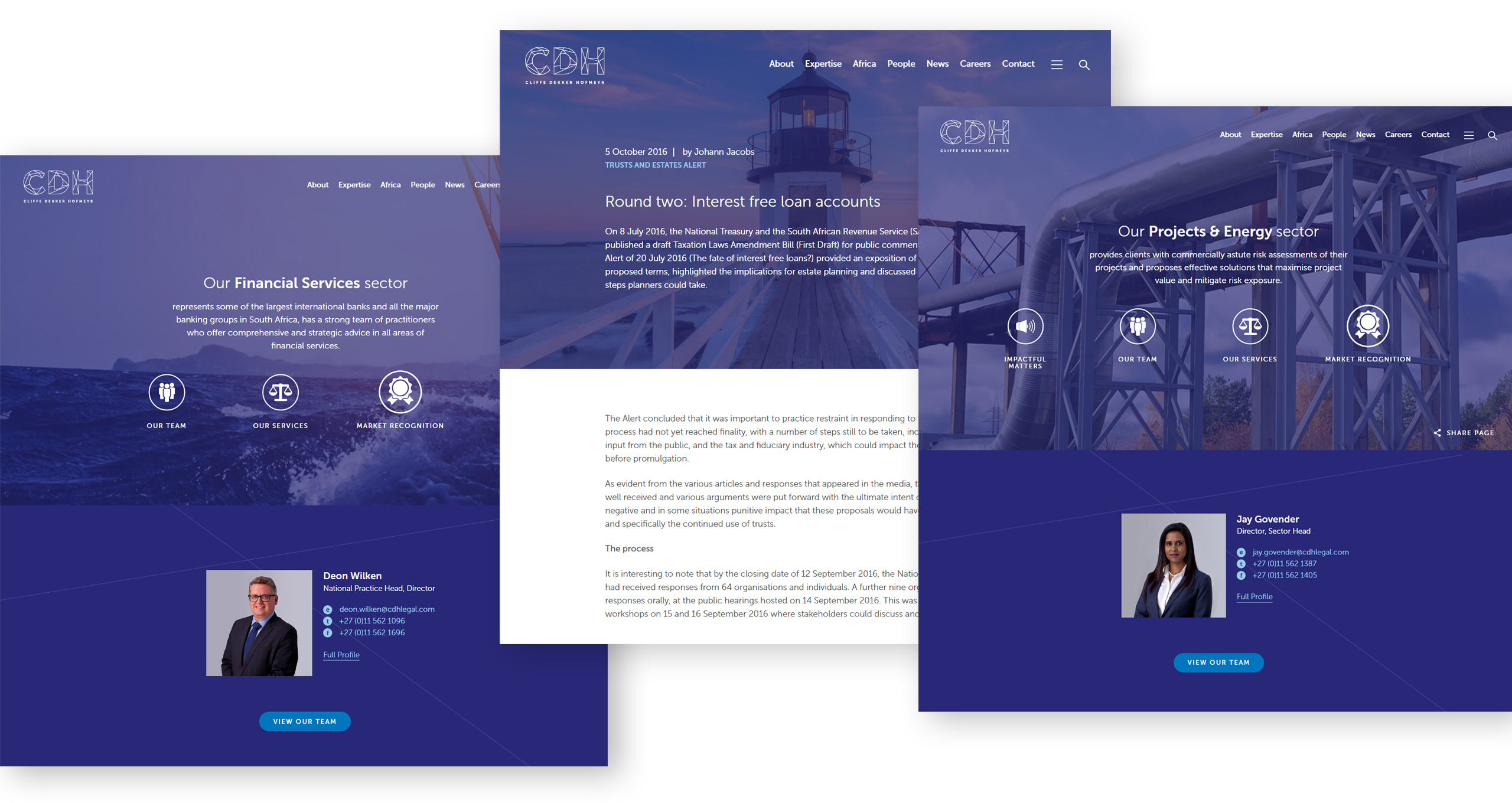 Content
visualization
A key deliverable from the discovery phase was the requirement to make content visual and easy to digest. To this end, content on expertise, profile and location pages is broken into visual components for ease of consumption.
Animated vertical tours are used to showcase the firm's history, values and careers offering.
CMS
The backend of the site is designed to streamline content population by Cliffe Dekker Hofmeyr content editors – for example, by automating insights imagery based on topic tags.
Profile pages are integrated with automated bio PDF content converters which are useful for pitch decks.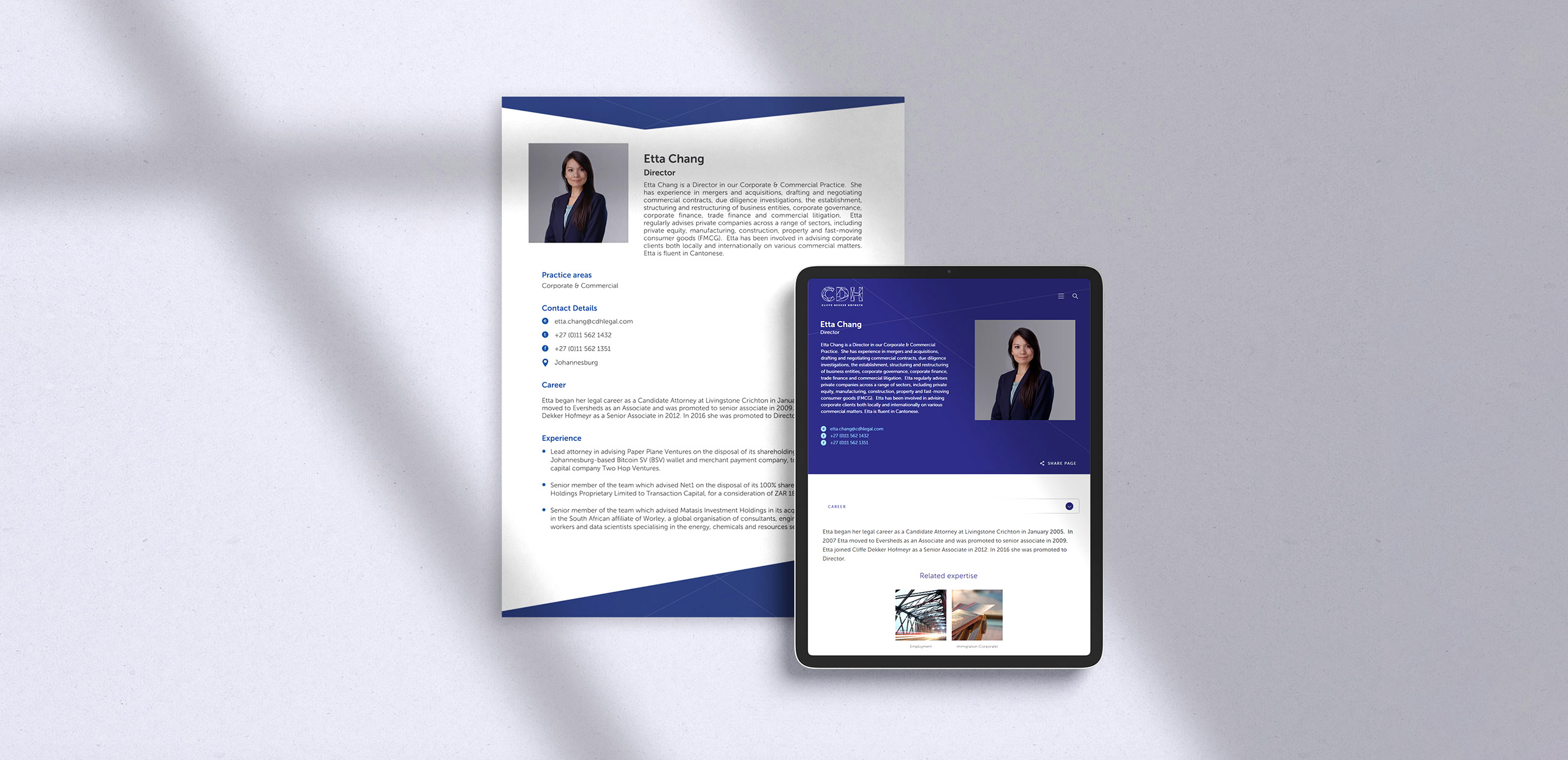 The result
The new site continues to position the firm as a thought leader in its field with top ranking insights content. The site was recently featured by Electric Sheep as one of the "Top 3 Best Designed Legal Websites in South Africa".
We appreciate the incredible skills that the Helios team bring to our projects. The service they have delivered to us over the years has been of the highest calibre and their patience is unending.

Michelle Preiss, Head of Marketing and Communications, Cliffe Dekker Hofmeyr