Features to include in your next events app
Boost event engagement with the help of technology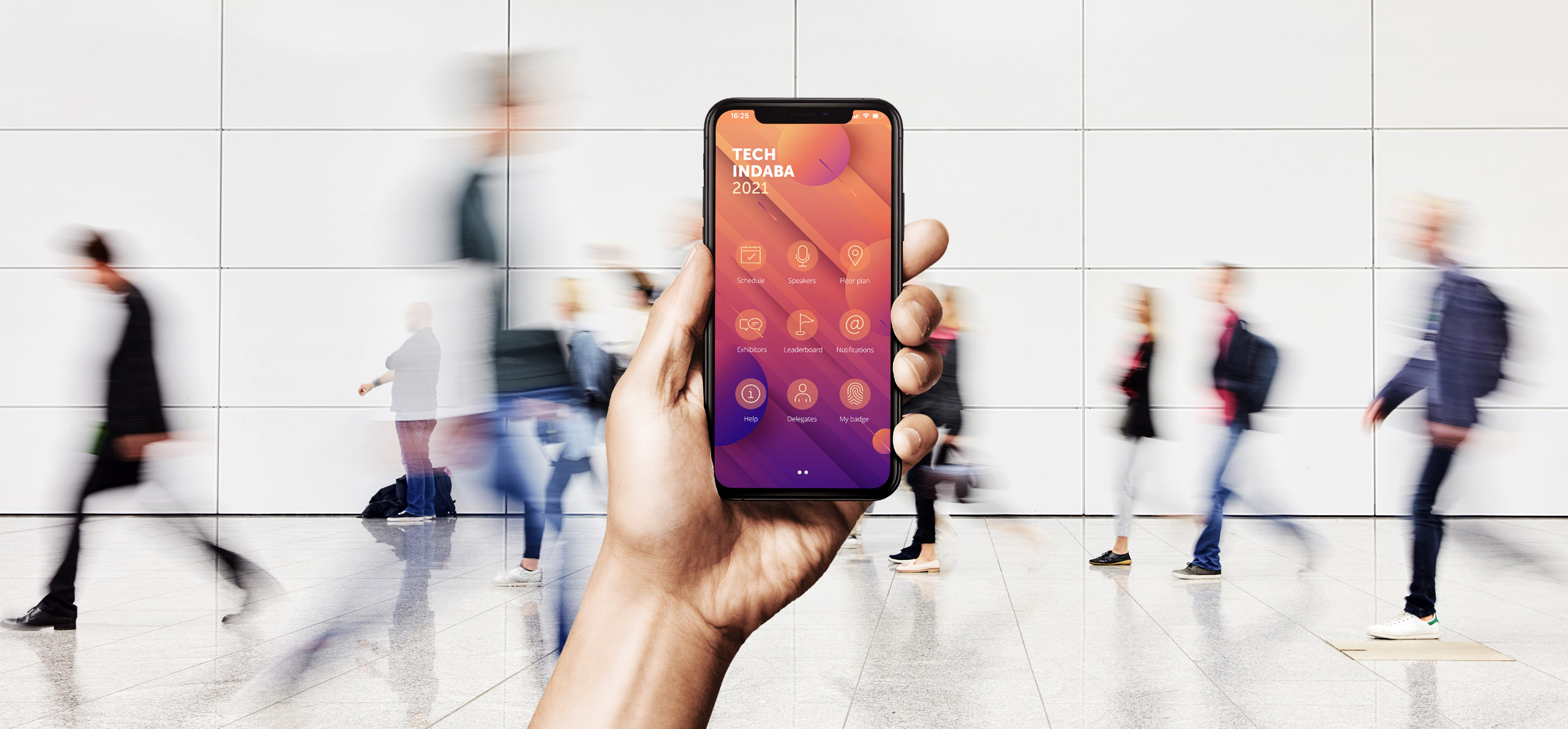 The use of the right technological tools can boost the success of your next event. Unlike event handbooks of the past, event apps can be used to convey last-minute schedule changes on complex multi-session events, help users navigate event floor plans and boost engagement through incentives and in-app rewards.
Events apps can be used to:
Communicate the event agenda and floorplan, with real-time updates
Share important updates and reminders via push notifications
Facilitate networking between delegates
Streamline polling, discussions and event feedback
Improve ROI for exhibitors via streamlined lead capture
Improve ROI for sponsors via in-app messaging and promotions
Collect attendance analytics to help improve future event cycles
Basic app features
The basic features of the app should replace printed event brochures and give users access to important event information, which can be updated to reflect last-minute changes. Basic app features typically include:
Exhibitor directory
Speaker directory
Event schedule
General event information (such as sponsors, map and contact details)
Push notifications
It is important to allow for personalization. For example, users should be able to bookmark sessions of interest to create their own personalized event schedule with session reminders, as well as take session notes for export to email.
Interactive floor plans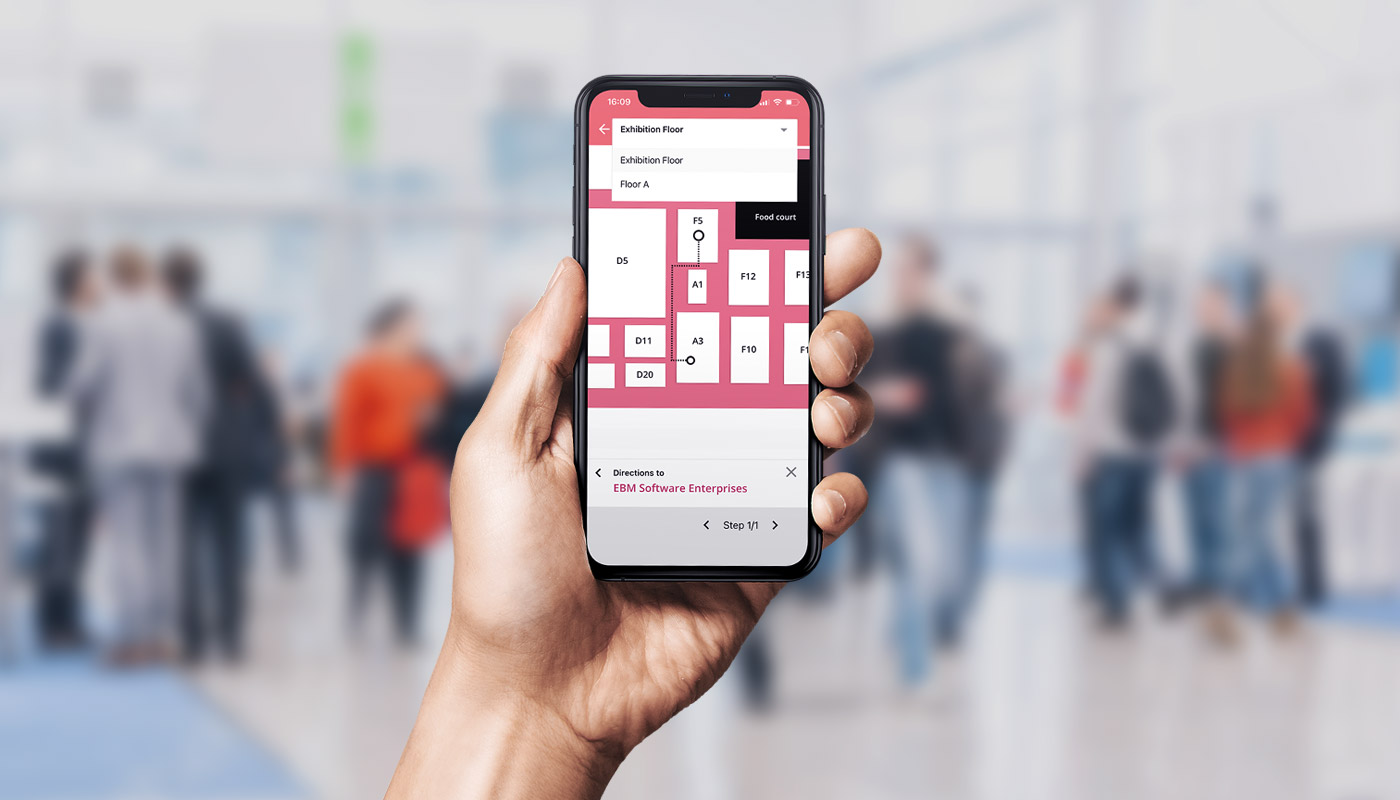 Depending on the scale of your event, an interactive floor plan is a crucial feature to help delegates navigate exhibitor booths, session rooms and points of interest – reducing the workload for on-site event staff and possibly eliminating the need for information kiosks.
The interactive floor plan feature should allow users to:
View the floor plan and tap on exhibitors, rooms and points of interest to find out more
Navigate the event floor plan by selecting a start and end point
Bookmark locations of importance, or exhibitors to visit
The floor plan can also be designed to highlight sponsor booths and featured exhibitors in a prominent manner.
Dynamic badge generation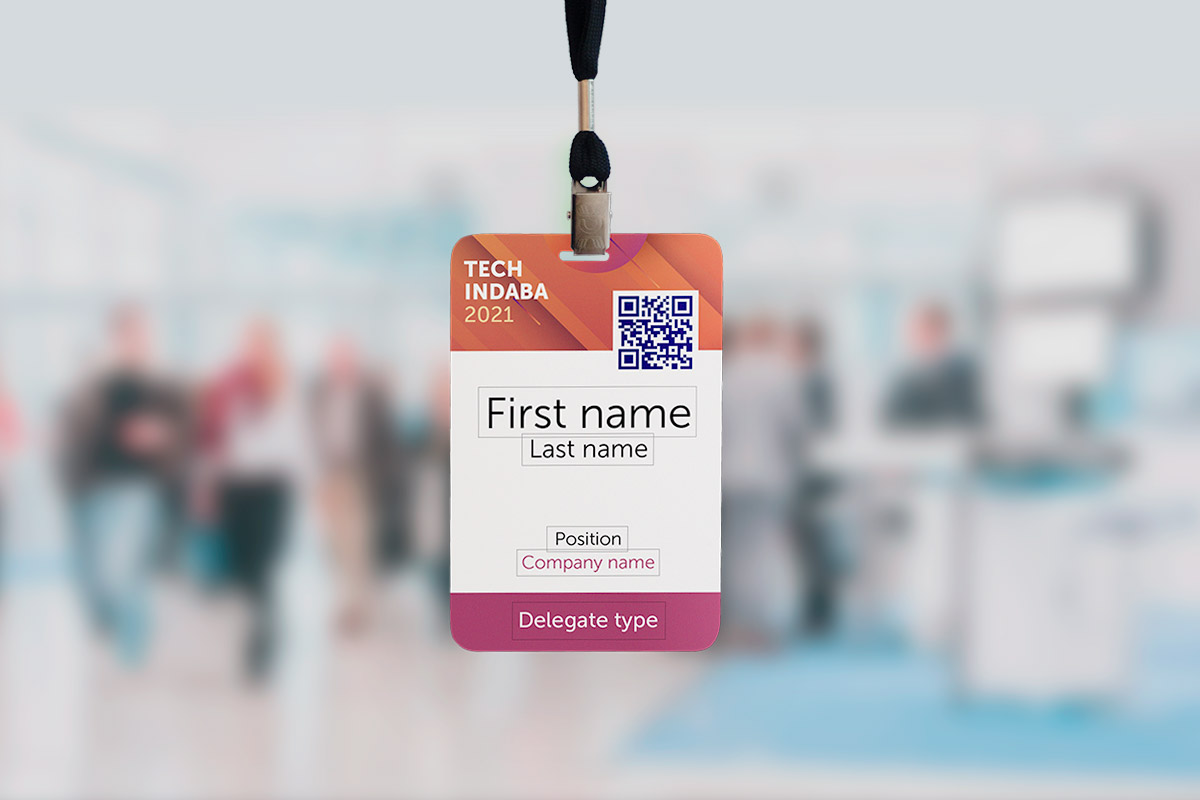 By using the content management system tied to your events app, badge creation for attendees and exhibitors can be streamlined. Dynamically generated badges can either be:
Paperless and entirely-in-app: Exhibitors scan the QR code on attendee mobile phones to exchange information;
Pre-printed, based on electronic attendee and exhibitor registrations before the event: Dynamically generated badge PDF files are sent to a commercial printer and then collected by attendees and exhibitors on arrival; or
Printed on the day using on-demand kiosk printing hardware: This approach saves on printing costs for no-shows and allows delegates to update their details if needed.
The use of exhibitor and attendee-specific QR codes are important features to streamline lead capture for exhibitors, networking among attendees, as well as attendance tracking for event organisers.
Attendance tracking
QR code based check-ins can be used for centralized attendance tracking and insights:
Event organisers can track attendance on the day, as well as attendance for specific events and sessions (this data can then be used to improve future event programmes based on popularity metrics)
Organisers can manage access to exclusive events or sessions (such as a sponsor's luncheon or VIP event)
Attendees can check themselves in to specific events or sessions, for example to collect CPD points
Lead capture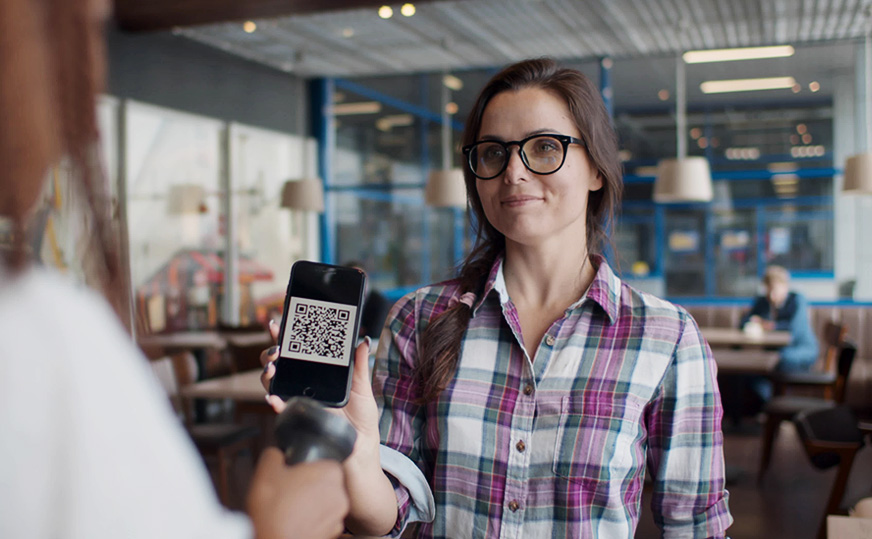 Exhibitor lead capture functionality can be used to allow exhibitors to scan attendee QR codes (printed on their badges or accessible via their digital in-app badge) for instant lead capture purposes. This data will then be exportable to exhibitor CRM databases.
The app should also allow exhibitors to rate leads according to qualifying criteria and append custom notes.
Discussion and Q&A features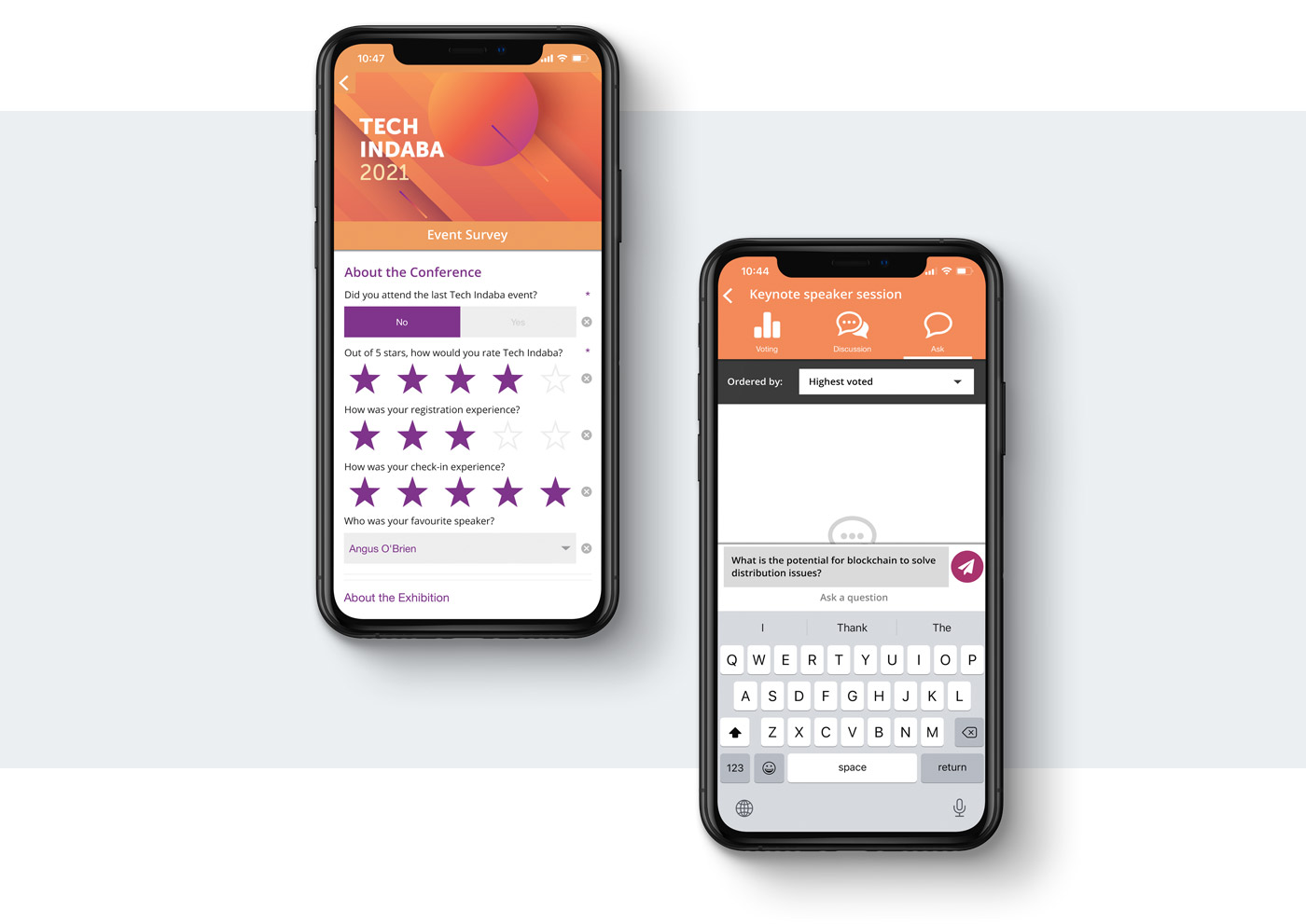 In-app discussion boards, questions submission forms and polling features are a great way to boost engagement with live event sessions.
Interactive features should allow audience members to:
Submit answers on live polls relevant to each session
Engage in session-specific discussions
Submit questions for speakers which can then be upvoted by other members of the audience, thus allowing speakers to attend to the most pressing and most popular questions first
Respond to general event surveys
Networking features
According to research, delegates at B2B events are most interested in features that help them network before, during and after an event.
In-app networking features should allow attendees to:
Update their in-app profiles (updating their photo, bio and contact details) for networking purposes
Browse an attendee directory
Exchange details with other attendees by scanning their QR codes
Send private messages to other attendee profiles on the app
Engage with an event-specific activity feed (a private social feed within the app where attendees can post updates or comment on sessions, as well as submit event-related questions)
Manage their profile privacy settings
Note: The features of the app should be configured to comply with regional and international privacy law requirements such as GDPR, POPI, and so on.
Gamification features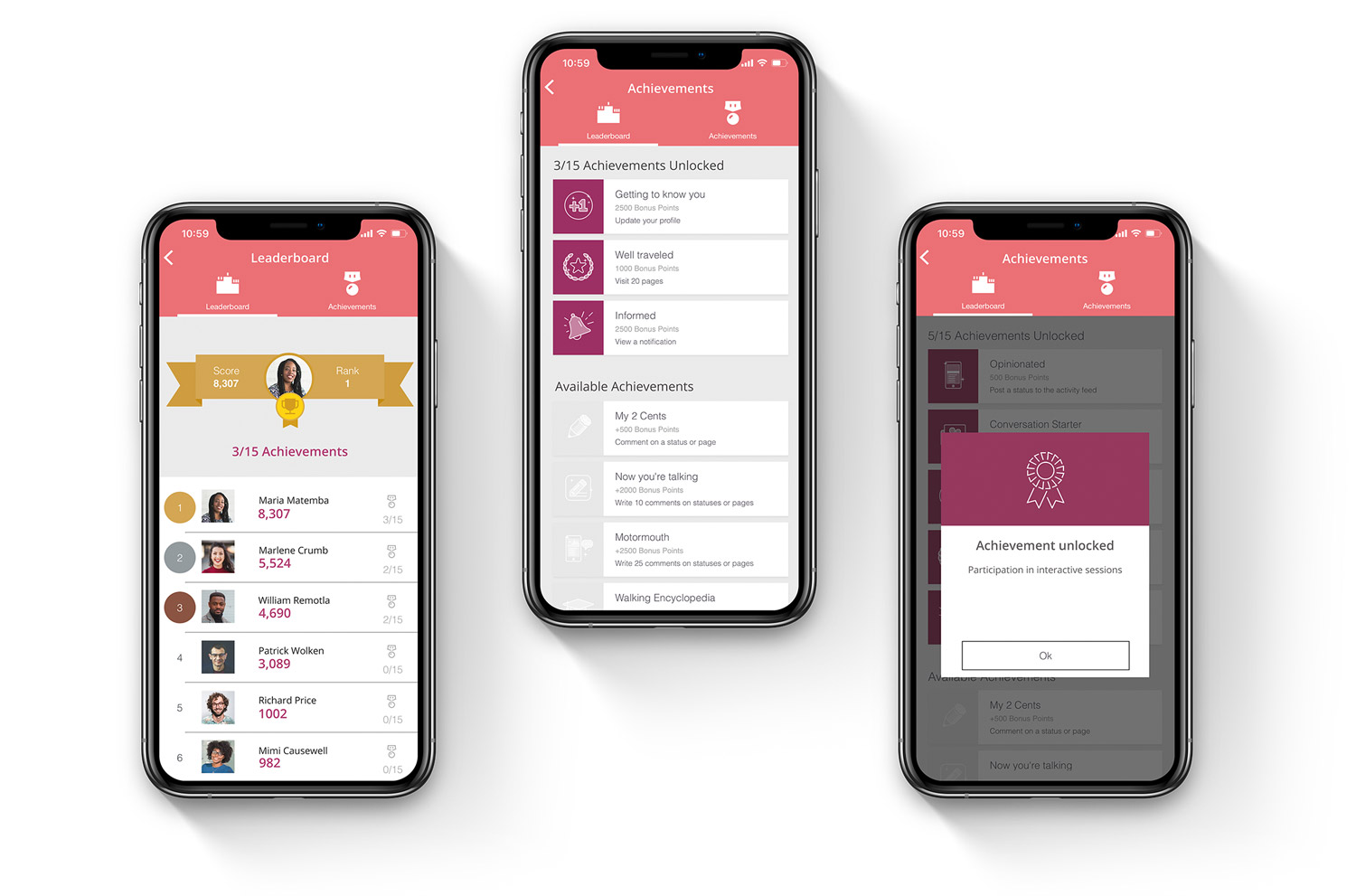 Lastly, there's no better way to improve event engagement than via gamification features tied to attendee challenges and prizes. By incentivizing certain actions, event organisers can achieve participation objectives and demonstrate value to stakeholders.
To encourage booth visits, for example, digital passport competitions can be held that put users into an eligibility pool for a major prize (such as a luxury holiday) if they scan in to at least 20 exhibitor booths via their app. This approach can help boost exposure for participating brands.
For talk-driven events, event organisers can allow attendees to earn points for specific app interactions, such as submitting questions on live event sessions and participating in event-specific discussion feeds.
Points and achievements should feed into an in-app leaderboard where attendees can view each others' progress, as well as review details on additional achievements available for unlocking.
Conclusion
Creating an app may be a game changer for your next event – boosting attendee engagement, streamlining communications and allowing for enhanced event reporting. If you have an upcoming event that can be improved with the help of technology, contact us below to discuss your project.