What is web accessibility and why is it critical to your website's success?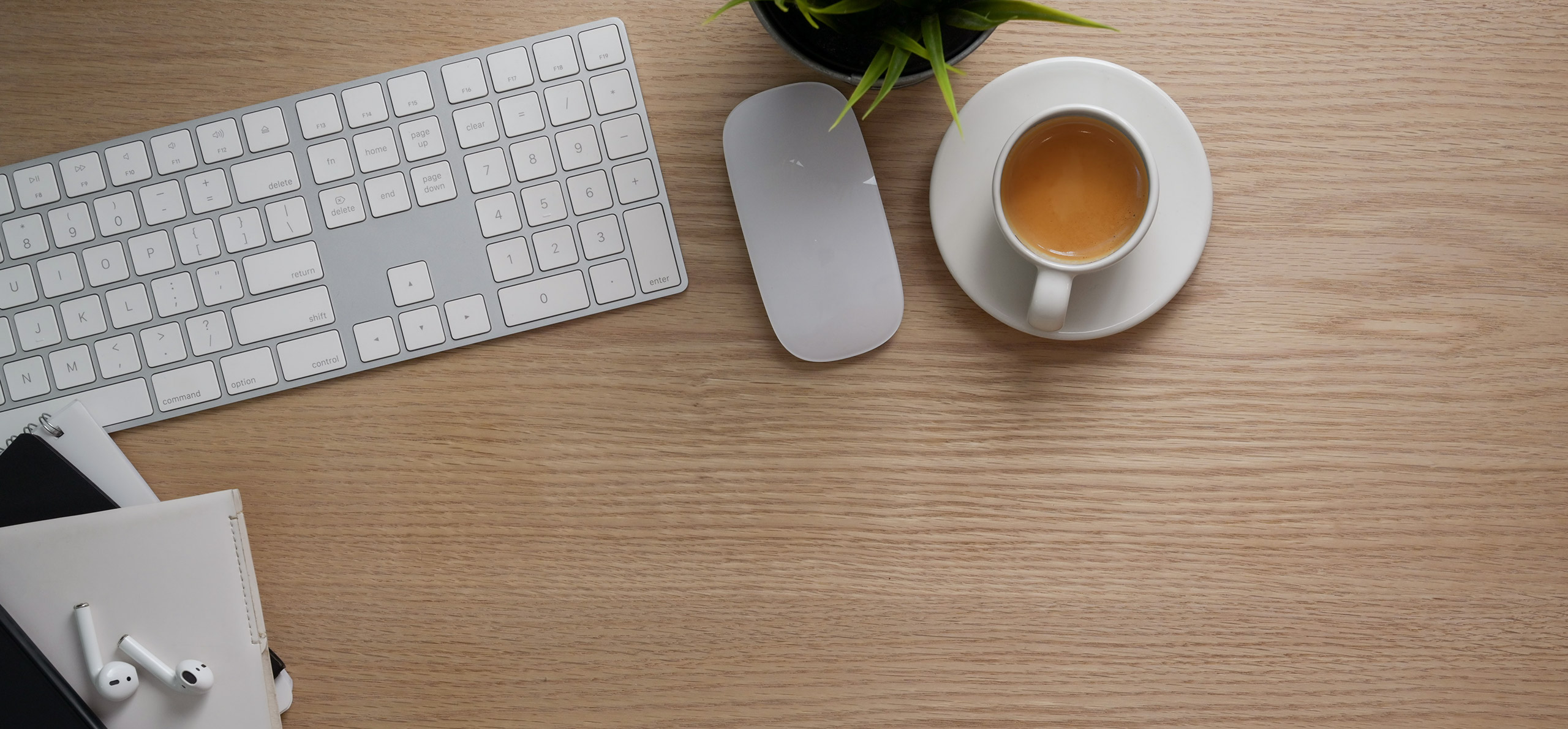 What is web accessibility?
Web accessibility is the practice of designing and building websites in a manner that is inclusive for all users, including those with visual, auditory, motor and cognitive disabilities.

Visual
- Blindness
- Colour-blindness
- Low vision

Auditory
- Deafness
- Hard of hearing

Motor
- Inability to use
a mouse
- Impaired motor
control

Cognitive
- Learning difficulties
- Neurodiversity
Implemented correctly, accessible web design should improve the user experience for all web visitors, supporting:
Device-agnostic browsing experiences
More search engine friendly practices
Design for older populations with age-related disabilities
Design for users with temporary or situational disabilities
By way of example, the practice of captioning videos makes this content understandable to deaf and hearing-impaired users, but also benefits those consuming content in public settings where audio needs to be disabled, those who speak another language and rely on auto-translate tools and those with learning difficulties who benefit from simulatenous audio and text content consumption. The practice additionally helps search engine bots index video content correctly.
With an estimated global population of 1 billion people and spending power of nearly $7 trillion, users with disabilities should not be overlooked. Organisations that prioritize accessibility not only have the opportunity to expand their market share, but can also improve brand reputation and customer loyalty in the process, while reducing legal liability.
Many organisations are waking up to the fact that embracing accessibility leads to multiple benefits – reducing legal risks, strengthening brand presence, improving customer experience and colleague productivity.
- Paul Smyth, Head of Digital Accessibility, Barclays
Understanding technical terms
When reading about web accessibility online, you may see terms like "WCAG", "W3C compliance", "ADA" and "Section 508" used interchangibly. These term relate to specific guidelines and regional legislation.
Here is a quick overview of important terms:
Global accessibility guidelines
Term
Definition
Accessibility
Accessibility is the practice of designing products, services, devices and environments in a manner that is user-friendly to people with disabilities.
WCAG

WCAG are Web Content Accessibility Guidelines developed by the World Wide Web Consortium (W3C). These guidelines form the basis for web accessibility legislation around the world.

To date, the following versions exist:

WCAG 1.0 was published in 1999.
WCAG 2.0 was published in December 2008.
WCAG 2.1 was published in June 2018, and is the standard used in most countries today.
A Draft version of WCAG 2.2 was published in May 2021.

W3C compliance
W3C compliance is the process of making a website compliant with web accessibility guidelines, for example by applying WCAG 2.0 standards or later.
US accessibility legislation
Term
Definition
ADA Title III

ADA stands for the Americans with Disabilities Act. It prohibits discrimination against people with disabilities.

Since 2018, US courts have affirmed that Title III of the ADA dos not only apply to physical businesses, but also to websites. Since then, the number of web accessibility law suits has skyrocketed.

Section 508

Section 508 of the Rehabilitation Act of 1973 requires that federal agencies, and any bodies that accept federal funding, make their technology accessible to people with disabilities.
EU accessibility legislation
| | |
| --- | --- |
| Term | Definition |
| EAA | The European Accessibility Act (EAA) was passed in 2019 and requires accessibility compliance for certain digital products and services in the EU by June 2025. |
| EN 301549 | EN 301549 is a policy document produced by the European Telecommunications Standards Institute (ETSI) which contains the official standards for web accessibility in the EU. Compliance with EN 301549 was voluntary until the passing of EAA in 2019. |
Web accessibility laws around the world
Web accessibility is a legal requirement in many countries. Here is an overview of global legislation, much of which uses WCAG 2.0 as its basis: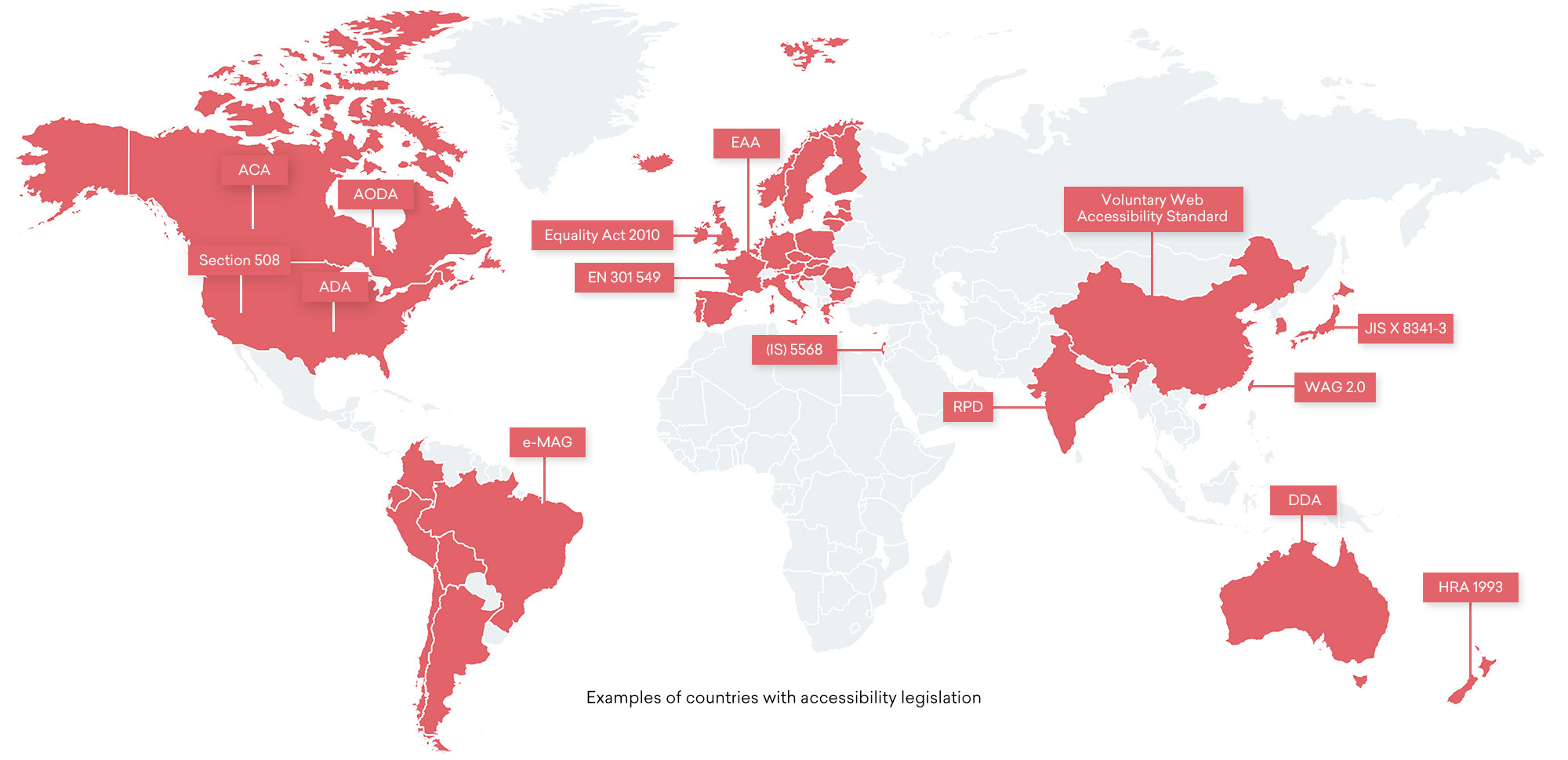 Country
Legislation
Argentina

Guide to Accessibility for Websites of the National Public Sector

Australia

Disability Discrimination Act (DDA)

Bolovia

Standard Guide for Websites

Brazil

e-MAG, Modelo de Acessibilidade de Governo Eletrônico

Canada

Accessible Canada Act (ACA)
Accessibility for Ontarians with Disabilities Act (AODA)

China

Voluntary Web Accessibility Standard

Colombia

The Institution of Colombia's Technical Standards

European Union

European Accessibility Act (EAA)
Web Accessibility Directive
EN 301 549 V1.1.2

France
Germany
India

Rights of Persons with Disabilities Act, 2016 (RPD)

Ireland
Israel
Israel Standard (IS) 5568
Italy
Legge Stanca (Stanca Act)
Japan
JIS (Japanese Industrial Standards) X 8341-3
New Zealand
Human Rights Act 1993
Norway
Anti-discrimination Accessibility Act
Regulations on universal design of ICT
South Korea
Act on Welfare of Persons with Disabilities
Spain
UNE 139803:2012
Switzerland

Federal Law on the Elimination of Inequalities for Persons with Disabilities

Taiwan

Web Accessibility Guidelines 2.0

United Kingdom
United States

Americans with Disabilities Act (ADA)
Section 508 of the Rehabilitation Act of 1973

Venezuela

Resolution 026
What are the dangers of ignoring web accessibility requirements?
Websites that do not follow accessibility standards are vulnerable to legal suits. In the US, for example, the number of ADA Title III lawsuits has grown four-fold since 2013, while the number of cases settled out of court are believed to be even higher.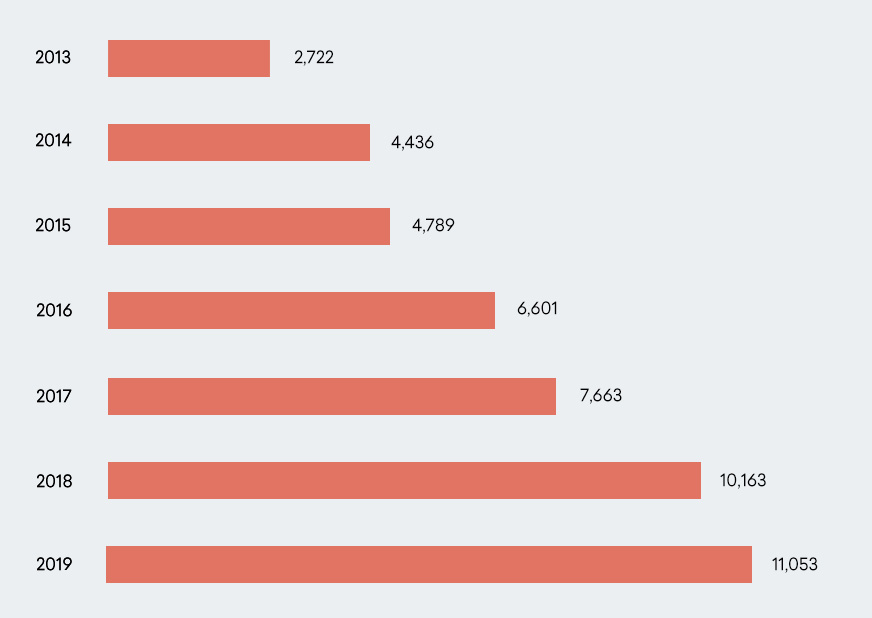 The total number of ADA Title III federal lawsuits filed each year in the US, according to Seyfarth
Many well-known brands in the US have faced accessibility lawsuits in the last 20 years. Here are a few notable cases:
In 2000, an Australian blind man won a $20,000 court case against the Sydney Organizing Committee of the Olympic Games (SOCOG) for a website which was deemed inaccessible to blind users.
In 2008, Target paid $6 million to settle a class-action suit brought by the National Federation of the Blind charging that Target.com was insufficiently accessible to blind users. Target paid an additional $4 million in costs and attorneys' fees to the plaintiffs.
In 2012, the National Association for the Deaf filed a suit against Netflix, claiming it did not provide equal access to customers with hearing disabilities.
In 2015, the National Association of the Deaf filed lawsuits against Harvard University and MIT for not providing accurate and comprehensive captions in its online course materials.
In 2017, a blind woman sued Nike.com and Converse.com for failing to provide equal access to blind and visually impaired users.
In 2019, a blind woman initiated a class action suit against Beyonce.com, claiming the site to be inaccessible to blind users.
In 2019, a blind man sued Domino's Pizza as he was unable to order pizza via Domino's mobile app. The case eventually rose to the Supreme Court.
Despite the high number of cases involving big brands, it is estimated that 85% of ADA lawsuits in 2018 were filed against small to medium retail businesses. The average settlement in the US comes to $35,000 and the vast majority of ADA Title III lawsuits find in favor of the plaintiff.
Unlike other areas of the law, ADA stipulates that the defendant is automatically responsible for the plaintiff's legal fees. This means disabled users have nothing to lose by filing a lawsuit.
Which industries are most affected by accessibility legislation?
No industry is immune to accessibility lawsuits but present trends indicate that retail, food services, hospitality, healthcare, banking and finance, entertainment industries, and educational institutions are especially at risk.
Here is a breakdown of stats from 2019: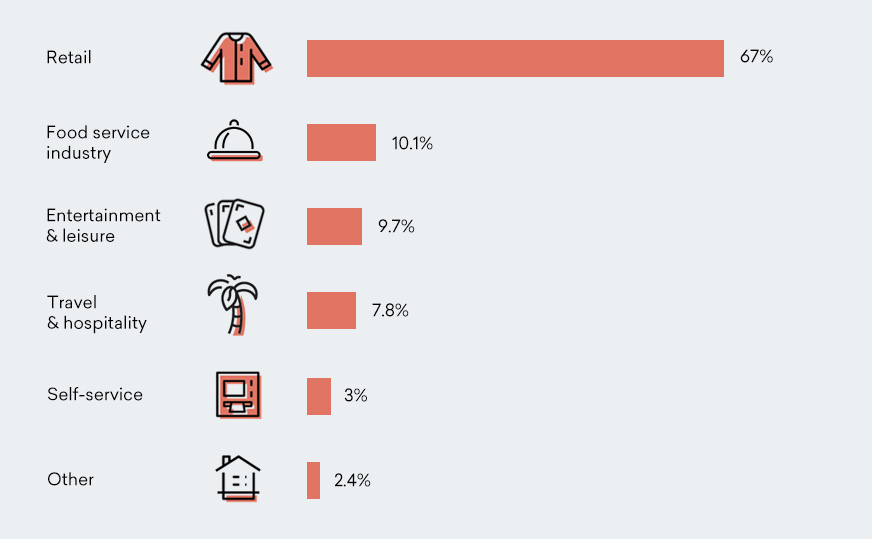 Industries most targeted by web accessibility lawsuits in the US in 2019, according to UsableNet
How to make your site accessible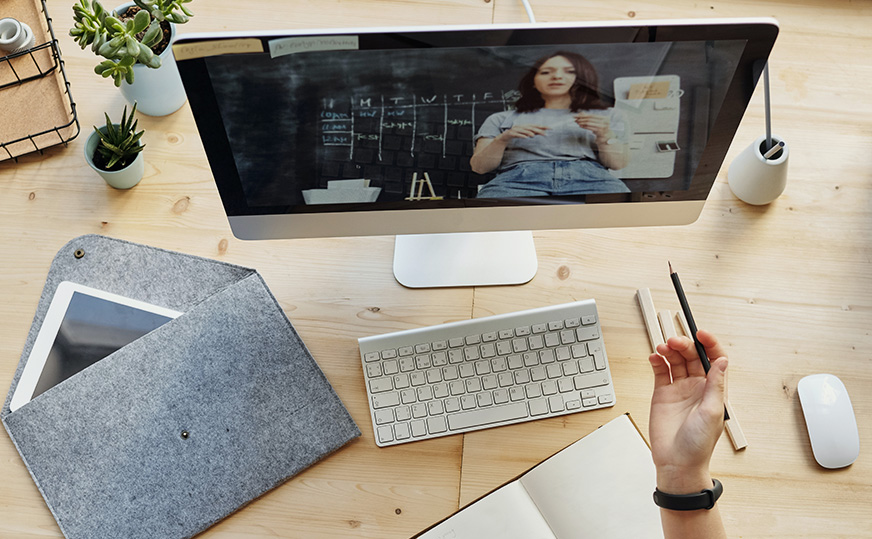 Web Content Accessibility Guidelines (WCAG) 2.0 are complex and highly technical. That said, here are a few examples of guiding principles that website owners should adopt as part of their accessibility strategy:
| | |
| --- | --- |
| Principle | Notes |
| A site needs to be coded with semantically meaningful HTML, including alternative descriptive text for images and meaningful link texts. | This practice is helpful for people who are blind and rely on screen readers to read web content to them. The practice also makes it easier for search engine bots to index your content correctly. |
| Websites and apps need to be fully navigable via keyboard. | This requirement caters to people with motor disabilities as well as people who are blind and cannot see the mouse pointer on the screen. |
| Videos and podcasts should have captions and / or transcripts made available. | This requirement caters to people who are deaf or hearing-impaired, but also benefits users in environments where audio needs to be silenced. |
| Colours must have sufficient contrast between text and background. | This practice caters to users with colour-blindness and low contrast sensitivity (which often increases with age). |
| Text must be customizable (in terms of size, spacing, fonts and colours). | This step is crucial for users with dyslexia, visual impairments and certain cognitive disabilities. |
| A site should feature a clear layout and design (including the use of well-defined headings, navigation bars and consistent styling). | This requirement caters to users with visual and cognitive disabilities, but also carries usability and SEO benefits. |
| Web content should be compatible with screen-readers and other assistive technologies. | This caters to users who are blind or visually impaired and rely on assistive technologies to navigate web pages. |
| Flashing animations should be avoided or made optional. | This practice caters to users who are prone to photo epileptic seizures. |
| All web forms need to be easy to complete, with programmatically-associated labels and clear error messaging. | This requirement typically benefits all web users. |
While accessibility-related website enhancements are essential for users with disabilities, they often improve web usability for a wider range of users.
Remediating accessibility issues
Once a website has been audited for accessibility, issues traditionally need to be addressed via the source code of the site, by reprogramming relating pages and features. Since this process is time and budget-intensive, many web owners choose to address accessibility compliance as part of a website re-design and re-launch.
With the advent of AI technology and machine learning, however, new web accessibility options have recently become available. AI-based tools can offer a full range of accessibility compliance features without the need to alter a website's source code. One such tool is accessibe, a solution which guarantees full accessibility compliance based on machine-learning and computer vision technologies.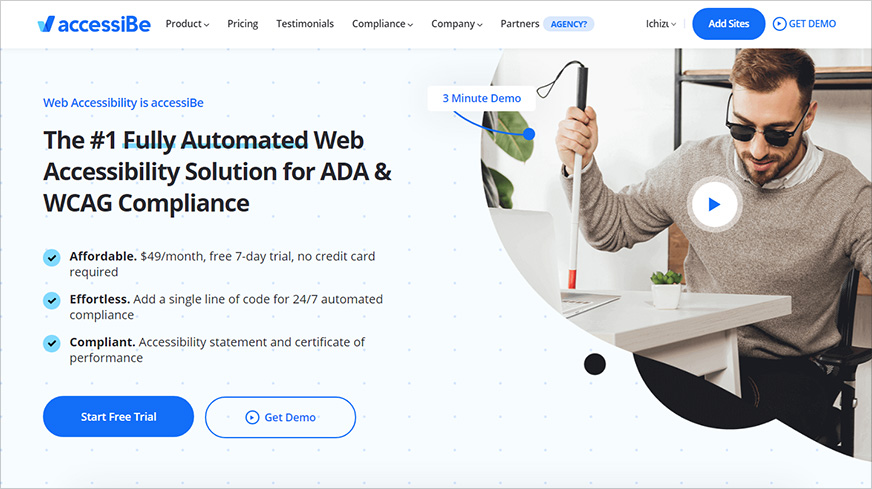 Accessibe works on two layers: an accessibility interface that provides UI and design-related adjustments, and an AI-powered background process which handles optimizations for screen-readers and keyboard navigation.
Software such as accessibe is typically updated as and when legislation changes, ensuring long-term compliance and certification.
Conclusion
The benefits of web accessibility compliance are multi-fold. Not only does a focus on web accessibility lead to potential growth in market share, it also improves the overall usability and search engine friendliness of your web presence. With the growing scope of web accessibility legislation that has come into force worldwide, it is clear that accessibility should be a critical component of your overall web strategy.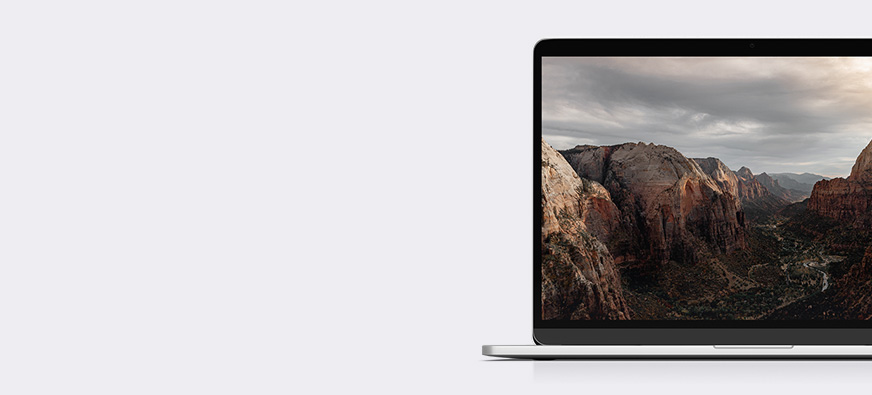 If you are looking to revamp your web presence in line with web accessibility guidelines, we can assist.