Your Explorer Screen
1. The Explorer Screen looks like this: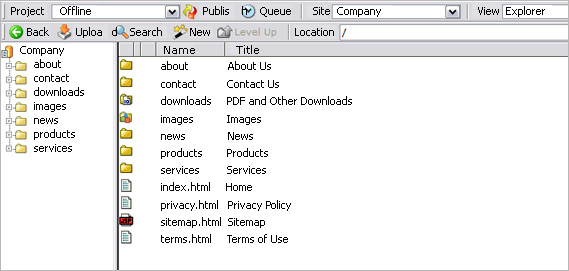 2. Certain pages are situated in folders, according to your website navigation structure. You can open folders by clicking on their name.
3. The home page, as well as landing pages within folders, are always called index.html.
4. Here is an overview of page types:
| | |
| --- | --- |
| | This is the home page. All landing pages (also within folders) are called index.html by default. |
| | These folders contain sub-pages and correlate to the main menu items in your website navigation menu. |
| | Images galleries have this icon. Images are typically stored here in one central location, divided into sub-folders. |
| | This is the downloads gallery. Downloads like PDF documents are stored here in one central location. |
| | All standard text pages have this icon. |
| | Pages with special features have this icon (eg. automated sitemap). These are the pages you will not be able to edit as they require JSP programming knowledge. |
| | Pages with structured content have custom icons. Structured content relates to online forms with pre-programmed formatting like news and events. |
5. Here is an explanation of Explorer Screen buttons:
| | |
| --- | --- |
| | Once you have made edits, use this button to publish changes (they appear live). |
| | This button displays all pages recently published, together with any publishing issues or errors. |
| | This feature is useful if you have more than one website set up in OpenCms. Toggle between various OpenCms sites using this drop down. |
| | Use this button to refresh the screen. |
| | You can use the preferences button to edit your password and other account settings. |
| | Use this button to log out of OpenCms when your session is done. |
| | Go back to the previous screen. |
| | This button allows you to upload images and other file types (eg. PDFs, Word documents and Excel sheets). |
| | Use this to search within your website. The system will display all files (including images, downloads and structured content) containing those keywords. |
| | Use this button to create new pages (see our practical example). |
| | Navigate one level up in the page hierarchy. |
| | This field displays the location of files and folders you are currently browsing. |
6. You can preview a page by clicking on its name. If the page is situated within a folder, click the folder to open it. Then click on the name of the page:

You can use the website navigation menu in the preview screen to view other pages on your site.
Tip
When making page edits, it's a good idea to preview pages before publishing changes.