If you are a website owner, you most likely received regulary Google Analytics stats reports. This report gives you a quick overview of the who, the when and the how - how many visitors access your site on a monthly basis, the geographical distribution of visitors, the keywords used to access your site, and so on.
Here is a quick overview of the key components of your report: 
1. Site Usage

Let's start with site usage. The visits figure indicates the number of sessions initiated by all visitors to your site, ie. the total number of new and returning visitors. To hone down on the number of unique visitors, see page 3 further down in your report.
The bounce rate indicates the percentage of visitors who entered and left your website on the same page. A high bounce rate (eg. above 80%) could mean that your website is not "sticky" enough – there is not enough engaging content to retain visitors, and it would be a good idea to add more resources.
The pageviews figure indicates how many pages were viewed in total by all visitors. You can interpret this in conjunction with the pages / visit figure – simply, the average number of pages viewed per visit.  Again, a low pages / visit ratio could mean that your website needs more robust content relevant to your consumer.
Avg. time on site indicates how long people stay on your site (typically measured in minutes and seconds), while the percentage of new visits reveals the ratio of visitors who have accessed your site for the very first time. By reverse calculation, it will give you an indication of the percentage of returning visitors.
2. Traffic Sources

The traffic sources diagram reveals how visitors found your website. Direct traffic (orange) indicates how many people accessed your website directly via a bookmark or by typing your URL in the browser bar. A high percentage of direct traffic could mean that your offline marketing efforts (posters, banners, business cards and print ads) are very effective in drawing visitors to your site.
Referring sites (green) indicates the amount of traffic from a link on another website. This could be links from partner sites, news pages, business directories or blogs.
The search engines ratio (blue) indicates traffic sources from keyword searches on Google, Yahoo, Bing and other search engines - this is typically the highest ratio. The search engines ratio also includes traffic from Google Ads you might have paid for.
3. Keywords
Another important area of your website report is the keywords section. This is typically found on page 5 of your report. The summary report provides an overview of the top five keywords used to access your site on search engines, together with visit and visit percentage statistics.
If the top keywords used to access your site don't match your core services offering, it's a good idea to refine website content focusing on your main keywords, or to add new resources containing your most important keywords (these could be news articles, blog posts and additional web pages). These efforts will draw more relevant traffic to your site.
4. Geography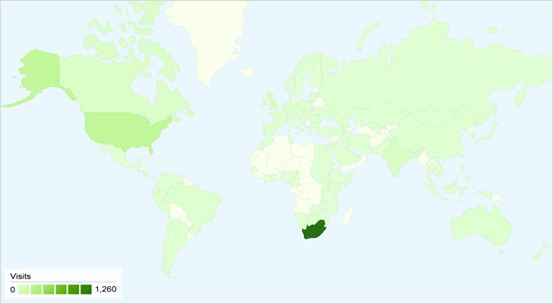 The map overlay provides a handy overview of the geographical distribution of your visitors, divided by country. Light green indicates lower traffic ratios, while dark green indicates the highest traffic concentrations.
If you offer a multi-lingual or multi-national service, the map overlay can be especially insightful.
5. Top Content

Lastly, the top content table shows the most popular pages on your website with pageview comparisons. The web pages which draw the most traffic are listed first.
6. In Closing
Lastly, it's a good idea to collect website traffic reports and compare trends over time – this will help you determine the effectiveness of your offline and online marketing, compare seasonal changes in web traffic and determine opportunities for improvement on your website.
The best way to boost rankings is to define a content strategy based on the needs and interests of your target audience, and keep updating your site with new, high quality content on a regular basis.